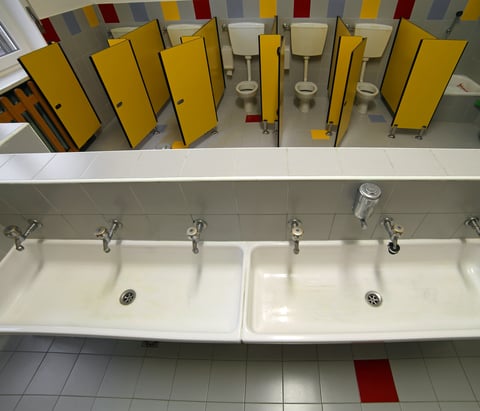 When a school restroom is well-maintained, students can use the facilities without worry.
On the contrary, an uncleanly restroom may create a snowball effect, leading to additional vandalism and school restroom neglect.
If you're hoping to improve the sanitation of your school restrooms, be sure to keep these six tips in mind. Not only will these tips contribute to the immediate cleanliness of your school bathrooms, but they will also inform the student body and school professionals of their role in maintaining an orderly, germ-free building.
1. Get students involved in the cleaning effort
Although it isn't the responsibility of students to clean school bathrooms, most schools have a student council or other form of student involvement committee that can bring awareness to restroom cleanliness concerns.
When students become involved in the cleaning effort, they will likely feel a larger sense of responsibility to keep that space clean. From throwing away trash to flushing toilets and turning off sinks to stopping vandalism, there are many ways for students to foster a sanitary restroom space.
2. Detour vandalism
Intentionally plugging sinks, writing on restroom walls, throwing toilet paper — these are all forms of restroom vandalism. While students may find these acts to be frivolous pranks, they do pose a risk to school restroom sanitation and safety. By discouraging bathroom vandalism, you will be doing your part to ensure a clean and accessible school restroom, here's how:
Remind students to turn off faucets (or install touchless faucets, which we will discuss in detail)
Opt for plastic partitions which are resistant to rust and permanent graffiti
3. Handwashing 101: Encourage and educate the student body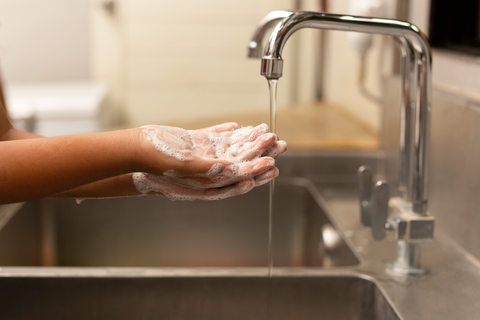 According to the Centers for Disease Control and Prevention (CDC), keeping hands clean is ultra-important for school cleanliness. In fact, handwashing is one of the best ways to protect yourself and others from the spread of germs. For a clean school restroom and germ-free building, adopt these top handwashing tips and practices:
Wet your hands with clean, running water (warm or cold), turn off the tap, and apply soap.
Lather your hands by rubbing them together with the soap. Lather the backs of your hands, between your fingers, and under your nails.
Scrub your hands for at least 20 seconds. Need a timer? Hum the "Happy Birthday" song from beginning to end twice.
Rinse your hands well under clean, running water.
Dry your hands using a clean towel or air dry them.
By following these steps to properly wash your hands, your student body will work to decrease the spread of germs, creating a safer and healthier school and student body. In addition to washing your hands effectively, it's important to wash your hands during the following scenarios at school:
After using the toilet
After blowing your nose, coughing, or sneezing
After touching garbage
Before eating food
4. Maintain a regular cleaning schedule
Keeping a routine list of bathroom cleaning duties is imperative to the cleanliness of a school restroom. When crafting this list, determine what essential duties that need to be completed every day. Then, write a list of periodic cleaning tasks that can be done over the course of a week or month. Finally, always leave room in the schedule for unexpected maintenance tasks that could pop up unexpectedly throughout the week.
Maintaining school restrooms with a cleaning schedule will enhance the safety of the space. Spills, clogged toilets, and overflowing garbage which could create slippery surfaces and impact the walkability are nearly nonexistent when a cleaning schedule is maintained.
Additionally, when bathrooms are frequently cleaned, germs are kept at bay. This allows students to attend school in a healthy and hygienic environment.
5. Ensure the school bathroom is stocked and all dispensers are full
Be sure to keep your school bathroom stocked with these items:
Toilet paper
Paper towels
Soap
Feminine hygiene products
And more
Having these items readily available will encourage proper usage of the school restroom facilities. Plus, student angst (and therefore vandalism) may decrease as individuals know that their restroom needs are being taken care of.
6. Install touchless faucets and bathroom appliances
Touchless faucets are key to restroom cleanliness. At Chicago Faucets, our goal is to provide better hygiene and top-of-the-line products for your educational facility. Water faucets play a role in every school, and hands-free electronic faucets provide the highest level of sanitation. These faucets automatically turn on when motion is sensed, so there are fewer contact points for germs to spread and infections to transmit throughout the school. All in all, Chicago Faucets supports you with durable, dependable, and affordable touchless options for your school restroom.
Creating a clean school restroom today
Are you ready to have clean restrooms available in your school? We have the tools available to support you as you build safer and healthier school bathrooms. To download our brochure filled with education solutions and product options, click here.
From touchless faucets to affordable product solutions, we are here to help. Chicago Faucets understands the unique needs of schools. Thanks to our dedication and innovation, we have been the preferred choice of schools for over 100 years. Our products are built to last (even in high-use areas like schools), our faucets are reliable and easily maintained, and our customer service is unparalleled.
Eager to discuss your options for creating a clean school restroom today? Reach out!