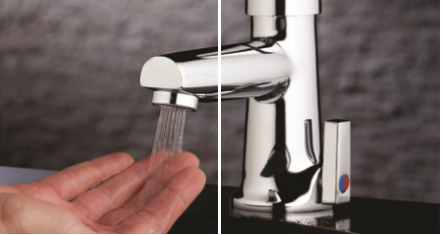 A cartridge is the heart of any faucet and the single-most important component in terms of a faucet's overall performance. This small part has a huge responsibility: Controlling flow and mix of the incoming water.
A cartridge's lifespan varies depending upon its type and the amount of use it experiences but, typically, it can be expected to last 5 to 10 years. Over time, rubber o-rings and other internal parts can wear out. A cartridge has a standard lifespan and can be replaced or serviced on a preventive basis. This eliminates concern about failure in terms of messy leaks, which can cause more expensive problems.
With applications in healthcare, education, food service, and commercial locations, not all faucets are the same. Similarly, not all cartridges are the same, begging the question: How do you determine which cartridge is right for your faucet?
Start with this guide.
Types of Cartridges
Cartridges for airport and conference center construction.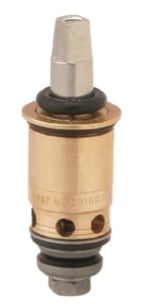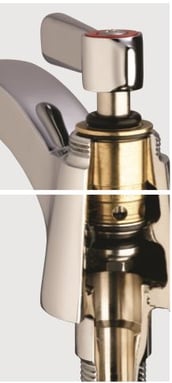 It was replaceable and interchangeable with other Chicago faucets Patented in 1913, this replaceable, completely self-contained cartridge was revolutionary in three ways:
I

t had the ability to

control

water flow with

just

one-quarter turn of the handle

It

closed with the flow of the water rather than against it, reducing

wear

It was replaceable and interchangeable with other Chicago faucet
The Quaturn cartridge has been updated over the years to incorporate new technology and materials, but it is still interchangeable with any Quaturn manufactured since 1913.
Today, Quaturn cartridges feature solid machined brass construction, a stainless steel stem, and high-grade, self-lubricated O-rings for long life. Their construction allows for simple rebuilding to save on cartridge replacement costs. The 90° turn is designed for a gradual stop, closing with pressure.
Quaturn Application: These cartridges, which come standard on most of Chicago Faucets' manual faucets and fit almost any Chicago Faucets product, are ideal for heavy-use commercial and institutional applications, including those with hard water.
Cartridges for Office or Hotel Construction
Ceramic
Chicago Faucets' ceramic cartridges feature high polished ceramic discs housed in durable brass sleeves for long-term, consistent performance. These easy-to-replace cartridges fit almost any Chicago Faucets manual product. In addition to color-coded seats to indicate hot or cold operations, they have positive stops and are designed for 90° turns. They are not repairable, but extremely easy to replace.
Ceramic Application: Because they're commercial grade, these cartridges are ideal for low-, standard-, and high-use applications, including residential and sites with hard water.
Cartridges for Food and Beverage Industry Construction
XKC with Integrated Check Valve
These cartridges have been designed with an integrated check valve to prevent cross-flow. Cross-flow in faucets happens when the pressure in the hot and cold water lines varies. For applications where a valve is downstream – like pre-rinse faucets or service sink faucets – a check valve is critical. Cross-flow can result in higher energy bills for the facility, poor temperature mixing, and create a breeding ground for bacteria. XKC cartridges feature commercial grade ceramic cartridge design with a solid brass sleeve for durability and long life. They are designed to fit most Chicago Faucets products with short-stem handles.
XKC Application: These cartridges are ideal for food service, janitorial applications and are featured in our most popular products in these two categories. They are also an energy saving addition to low-flow faucets. Lower flow faucets are at a greater risk of cross-flow. 
Cartridges for Schools
MVP
Known for its "Metering Valve Perfection", MVP cartridges close upon release or within a 2 to 15-second cycle time, and feature an external timing nut for easy adjustment without the need to shut off the water first. Also for easy maintenance, there are fewer replacement parts and can be renewed as part of a regular maintenance routine. When used with a Chicago Faucets 665 handle, they're ADA compliant.
MVP Application: These cartridges are ideal for reducing water usage in schools, stadiums, airports and other high-traffic locations.
Cartridges for Rest Stops
NAIAD

NAIAD is at once versatile and easy to maintain
. The parts are easy to replace for long-term maintena
nce savings. It features push-button operation and, when co
mbined
with duckbill handles, is ADA compliant. It's available in immediate-off and adjustable-cl
osure versions, as well as for pedal box and knee valve applications.
Designed to be easily renewed for long term value.
NAIAD Application: In addition to healthcare applications with foot or knee valves, choose NAIAD cartridges for vandal-prone areas or installations with infrequent maintenance visits, like rest stops or park restrooms.
Cartridges for Laboratory Faucets
Slow Compression
The Slow Compression line are designed to fit almost any Chicago Faucets product. Parts are easy to replace for long-term maintenance savings. They allow for a gradual stop and a 360° turn for fine adjustment. When combined with lever or wing handles, they are ADA compliant.
Slow Compression Application:
Because they allow the water stream to be finely adjusted, Slow Compression cartridges are ideal for laboratory applications.
Cartridges for rest stops, parks, and campgrounds
Klo-Self
Designed to fit almost any Chicago Faucets product, Klo-Self cartridges are self-closing with an immediate off. Thanks to their construction, which includes heavy duty metal-to-metal cam design for easy operation; solid brass sleeves; and stainless and stainless steel stem, washer, retainer, and nut, these low-maintenance cartridges are not affected by water condition.

Klo-Self Application: Thanks to the fact that they're low-maintenance, choose these cartridges for areas that receive little or no regular maintenance, such as public rest stops, parks, and campgrounds.
Knowing the

Details
After the above big-picture look, it's important to drill down to the details because, as already indicated, not all cartridges are the same and knowing what you want yours to accomplish will help you make the best purchasing decision.
There are manual, metering, and self-closing cartridges, depending upon your faucet type.

L

ots of cartridges are interchangeable, but not all, so be sure to

confirm recommendations

.

Lots of cartridges can be rebuilt, but not all, so pay attention to what you're selecting if you do want to invest in cartridges that can be rebuilt by dedicated maintenance personnel.

Some

cartridges

are specifically

designed for hard water installations

.

Some

cartridges

are

designed to

help prevent cross-flow

.

There are cartridges that

provide a positive stop and cartridges with a gradual stop, 90º turn

,

or 360º turn.
If, after considering your needs and comparing them to this guide, you still need assistance in determining the best cartridge for your application, check with your distributor or call 1-800-TECTRUE (8328783) for further assistance.