Home is where you go to go to relax. But what would you do if your typical self-care activities — like taking a hot shower or drawing a soothing bath — put you at risk for a potentially severe disease?
Legionnaires' disease is a sickness that is spread through steam and water droplets. This condition is concerning, especially for those over the age of 50, smokers, and individuals with weakened immune systems.

In 2017, the U.S. Centers for Disease Control and Prevention recorded 6,939 deaths related to waterborne illnesses. Of those deaths, 91 percent were associated with pathogens that grow in water systems, including Legionnaires' disease.

Keep reading to learn more about a recent Legionnaires' outbreak and how an auto-drain shower system could remediate future risk in the facility.
Three L
e
gionnaires' cases in assisted living facilities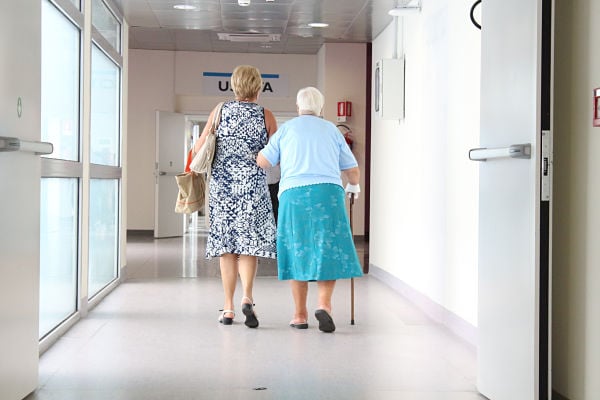 Let's take a moment to go back and remember the hypothetical situation of catching a disease in your nighttime bath. That make-believe scenario became reality in Newark, New Jersey when three cases of Legionnaires' disease were confirmed at a senior apartment facility.
In addition to emergency meetings between health officials and building managers, residents of the senior living facility expressed their worry regarding Legionnaires' disease. One woman stated, "I'm very concerned, very. My level is 10."
Legionnaires' disease is a form of pneumonia. It is caused by legionella bacteria and is commonly characterized by the following symptoms:
Cough
Headache
Shortness of breath
Muscle ache
Fever
Chills
Diarrhea
Be sure to contact your doctor or local health department if you believe you were exposed to Legionnaires' disease and if you develop any symptoms of the illness.
Why Legionnaires' Disease is especially dangerous in assisted living facilities
Typically, Legionnaires' disease can be successfully treated with antibiotics. However, certain individuals may be at an increased risk for infection, including those who fall into the following categories:
Over the age of 50
Smokers
Chronic lung disease
Weakened immune systems
Cancer
Underlying illnesses, like diabetes, kidney failure, or liver failure
These groups are more susceptible to potential complications of Legionnaires' disease, which is why assisted living facilities with older populations are at heightened risk.
In fact, a shocking 1 out of every 10 people who contract Legionnaires' disease will die due to complications associated with the illness. Additionally, those who get Legionnaires' disease during a stay at a healthcare facility are at an increased risk for death, as 1 out of every 4 of these cases will die.
How to reduce the chances of waterborne pathogen illnesses in assisted living facilities
According to the CDC, keeping bacteria that causes Legionnaires' disease out of water systems is key to preventing the spread infection throughout buildings. The disease is spread through water vapor and droplets, commonly out of sinks and shower systems. Therefore, stopping the bacteria at the source is essential.
Showers are a common location where Legionella bacteria breeds. That's why Chicago Faucets has added the auto-drain shower system to our line of products.
What's so special about the auto-drain shower system?

The drain automatically removes standing water in the column between the shower valve and showerhead. This eliminates stagnant water that could cause illness, including Legionella.
The system automatically drains the water column between the shower valve and the hand-held shower spray.
Additionally, the auto-drain shower system comes in three versions to best fit the needs of your facility, including the following models:
Fixed shower head
Hand spray with hose
Retrofit kit for existing shower hose
Moving forward with an auto-drain shower system
It's possible to reduce waterborne pathogens with our cutting-edge auto-drain shower system. Now is the time to say goodbye to hospital acquired infections. High-risk populations in healthcare settings should not be subject to high-risk bacteria.
Although the risk of infection is present in standard showers, our auto-drain shower system helps to minimize that risk by properly removing standing water. When standing water is eliminated, so are the pathogens that grow in this stagnant liquid. By removing the standing water with an auto-drain system, you are safeguarding your health-care patients and building residents.
Are you ready to take the next step toward a safer facility? Purchase your auto-drain shower system today! Click here to get in touch with a representative in your area that can set you up with an auto-drain shower system for your building.