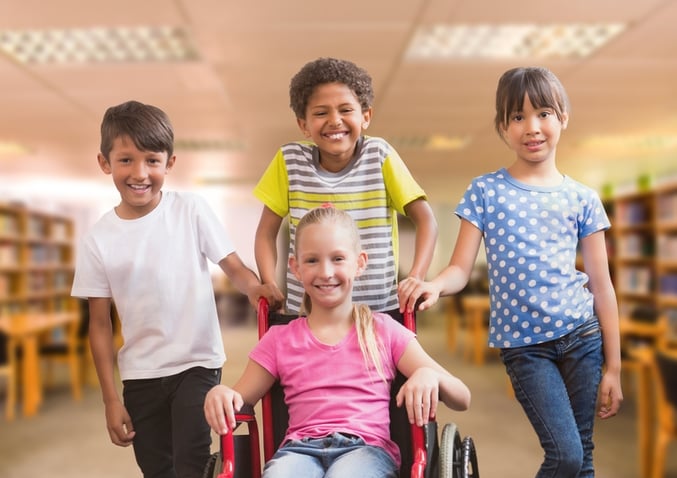 The Americans with Disabilities Act (ADA) is a civil rights law that prohibits discrimination against people with disabilities in all areas of public life. This legislation ensures that people with disabilities have the same opportunities and rights as everyone else. In 2009, Amendments were signed into law that made significant changes to the definition of "disability." Title II of the ADA pertains to state and local governments, their departments and agencies, and any other special purpose districts of state or local governments. In a school setting, this covers students, parents, and employees.
The ADA sets minimum requirements for facilities to accommodate people with disabilities. Requirements for schools are slightly varied based on the purpose of the classroom. It is important to plan and prepare for these design considerations so the space is compliant and can be enjoyed by all.
How to create an accessible sink design
The ADA's standards of accessible design are composed of seven principles: equitable use, flexibility in use, simple and intuitive use, perceptible information, tolerance for error, low physical effort and size and space for approach and use into the design of a space or facility.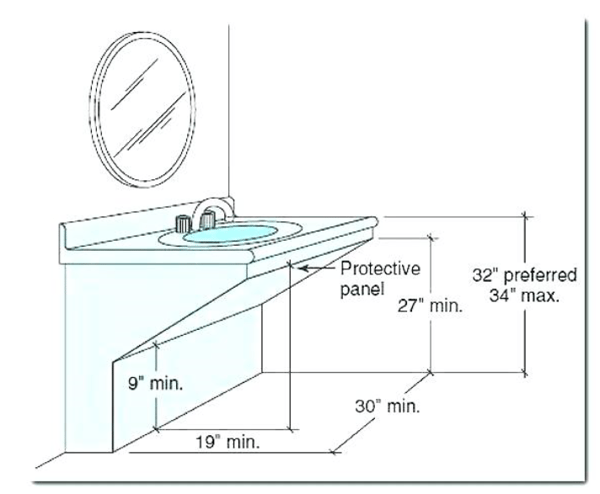 Sinks and faucets are one aspect of the classroom and facility design that need to be considered in accordance with ADA standards. The ADA requirements are intended to help students with physical limitations to use the facilities, such as space for those in a wheelchair to use the sinks comfortably. To meet ADA guidelines, a sink should not be mounted higher than 34 inches from the floor. Sinks should also allow a knee clearance of 27 inches high, 30 inches wide, and 11 to 25 inches deep. The floor space below a sink must also be clear and any pipes must be insulated.
When choosing a sink for a classroom, consider one where the rinse counter provides a sloped countertop, integral sink, and raised edges to help minimize spills. For ease of use, all faucets should be lever-operated, push, touch, or electronically controlled. This allows them to be used with one hand without the need to tightly grasp, pinch, or twist the wrist. To meet ADA requirements, the faucet should be operable with a force of less than 5 pounds.
ADA compliant sinks
To provide a good ADA compliant facility, consider choosing well-made, durable products that require minimal physical effort and ease of use. Sinks can be ordered in a variety of configurations to help meet the needs of every classroom, or situation.
To provide an ADA compliant sink area, consider a solid-surface sink, such as stainless steel, with fully integrated sinks at various heights. When using a multi-bowl sink, only one sink needs to offer minimum knee and toe clearances. Therefore, the multi-height systems combine an ADA compliant sink with higher sinks.
Using stainless steel appliances offer a durable surface that has a long life expectancy. They are also very easy to clean and maintain. Stainless steel typically does not chip or crack and can be repaired. When choosing between sinks, you may often encounter "stamped" or "folded" steel. This indicates how the sink was formed. Stamping is when the steel is heated and shaped using a mold, and folding is when a sheet of steel is cut at the corners, then folded and fused to form the walls. Folded sinks are considered better quality because they have a uniform thickness throughout the sink.
ADA compliant faucets and dispensers
As mentioned, faucet design is critical to ensure ease of use control when turning the water on and off. Lever-handle faucets are useful when only one hand can be used to operate. These are ideal for classroom settings when sinks may be used to wash items or clean up after a project.
For bathroom areas, touchless faucets offer simple activation. Utilizing a sensor-controlled faucet helps prevent the spread of germs, which often linger on faucet handles. They also do not get as visibly dirty throughout the day as traditionally operated faucets do, which requires less cleaning and maintenance. Touchless faucets are also effective ways to save water.
Faucets and soap dispensers need to meet ADA reach range and height requirements for mounting. These requirements include a 48-inch-high limitation on all fixtures and a 20-inch reach depth. For more ADA compliant faucet options, click here.
ADA compliant drinking fountains
Another aspect to consider when choosing ADA compliant facilities are drinking fountains. The spout height for drinking fountains and water coolers should not exceed 36 inches. To comply with ADA standards it should also have a spout at the front of the unit and a parallel water flow.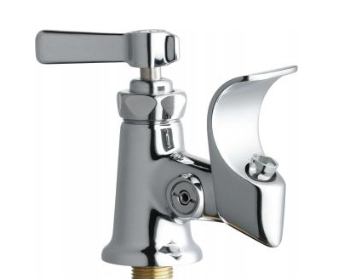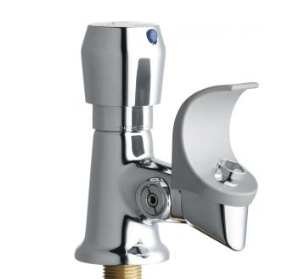 Pictured: ADA compliant water fountains/bubblers
It may be beneficial to consider including a fountain with a wider, longer, or flatter push button that is easy to operate.
Similar to sinks, the fountain must have adequate knee clearance and a clear floor space. The fountain must extend 17 to 19 inches from the wall and have a minimum knee clearance of 27 inches high. In addition, there must be at least a 9-inch toe clearance that is free from obstructions.
Chicago Faucets and ADA compliance
Remember, students spend more time at their school than at home, so it is important to provide an environment that is comfortable and compliant. At Chicago Faucets, we offer a variety of resources for schools that can help create healthier and safer education facilities.
If you're interested in upgrading your education space, reach out. And, be sure to download our complete Education Solutions Guide for free!