How much does it cost to build a commercial kitchen?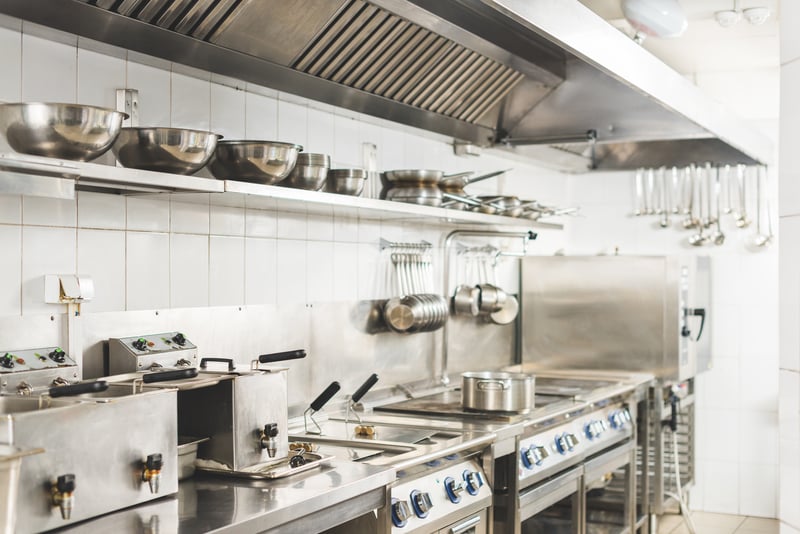 A lot of thought goes into the building and cost of a commercial kitchen.
From the front of the house to the back of the shop, everything needs to work properly for the operation as a whole to succeed. Plus, each area has unique requirements that need to be addressed with specific products and faucets.
As the leading commercial faucet brand, Chicago Faucets provides dependable and durable products and services — and we understand the ins and outs of commercial kitchens. In this post, we're discussing the main considerations and costs associated with building a commercial kitchen...
How do you budget for building a commercial kitchen for catering or a restaurant?
Before you bring out the checkbook and purchase the appliances and items you need for your commercial kitchen, it's important to create a restaurant, kitchen, and equipment budget. Whether you're making renovations to your current restaurant or you're designing an entirely new commercial kitchen from scratch, budgets are an essential step in restaurant kitchen planning.
While creating your budget, consider your top goals and requirements for your facility. Once you have this list made, you can begin to find companies that fulfill your needs. Reach out to the brands that provide the products needed for your catering service or restaurant. Then, get a lot of quotes to find the best price on the market.
Finally, when crafting your budget, it's important to prepare for more costs than you anticipate needing. Having emergency funding available for unexpected costs will give you an extra cushion and peace of mind down the road.
What equipment is needed for a restaurant kitchen?
A restaurant is made up of many essential stations where faucets are necessary, including:
Dish room
Food prep area
Janitorial and maintenance spaces
Bar and server counters
Hand wash stations
Safety product closets
Restrooms
Each of these stations requires different types of faucets. Chicago Faucets offers a comprehensive range of sinks and faucets. From our water-conserving sinks to our innovative hygiene-conscious spouts, we are able to offer a wide range of products for each area of your commercial kitchen or catering space.
In addition to top-notch faucets, you'll want to invest in other essential kitchen appliances for your commercial kitchen layout, such as:
Ovens
Walk-in refrigerators and freezers
Ventilation systems
Cutlery
Cleaning and safety equipment
And more!
Top faucet choices for your entire restaurant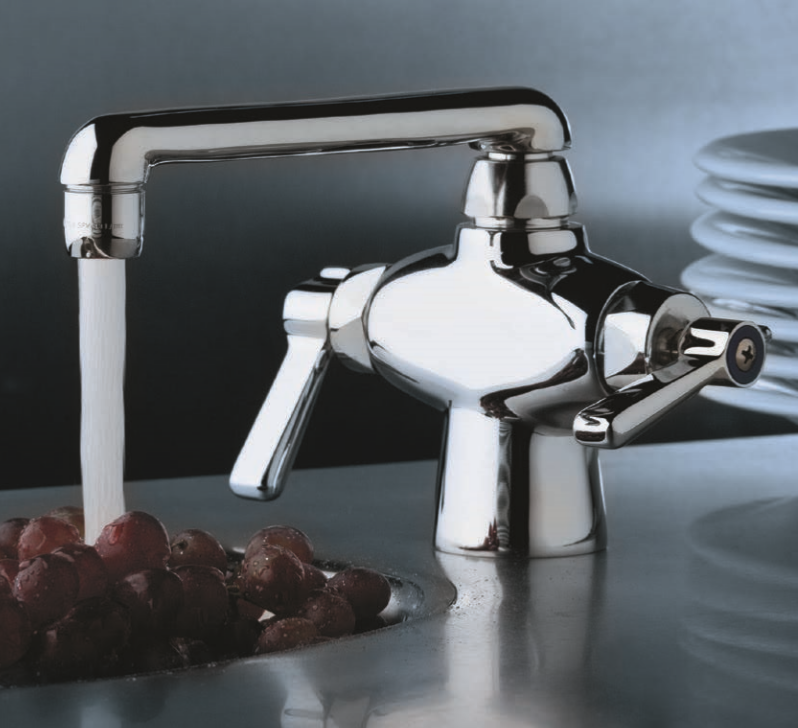 At Chicago Faucets, we offer a variety of faucets that supply your restaurant with the accessories it needs to properly function. We are committed to designing top-of-the-line faucets, such as:
Deck Mount Workboard Faucets
Wall Mount Workboard Faucets
Deck Mount Sink Faucets
Wall Mount Sink Faucets (new models available!)
Bar and Pantry Faucets
Pedal Valve Faucets
Glass Fillers and Dipperwell Faucets
Deck Mount Pre-Rinse Faucets
Wall Mount Pre-Rinse Faucets
Hand Sink Faucets
Manual Lavatory Faucets
Janitorial Sink Products
Hoses
Drains
Eye Wash Stations
With our extensive list of faucets, you're can supply your kitchen with everything it needs and more. Plus, standard shipping for most products is only 5 days, so you can get your business up and running as soon as possible with the highest quality food service products and faucets.
What additional costs should be considered?
On top of your appliance and set up costs, you will need to invest in other things to get your commercial kitchen up and running.
For starters, you must consider any insurance documents, permits, licenses (liquor license, food service license, etc.), and any other legal agreements. These technical documents are essential to the success of your business, because without them, your establishment will not be up to code nor will it be legal to operate.
Next, you must consider how you will fund your employees. To keep your restaurant running, you will have to invest in employee salaries and administrative costs (such as accounting fees, utility fees, cash register technology, etc.). Finally, to maintain foot traffic in and out of your restaurant or catering business doors, you might consider tacking on some marketing expenses. Banners via social media, local flyers, and Google ads could all prove to be helpful to your business.
Restaurant startup costs and next steps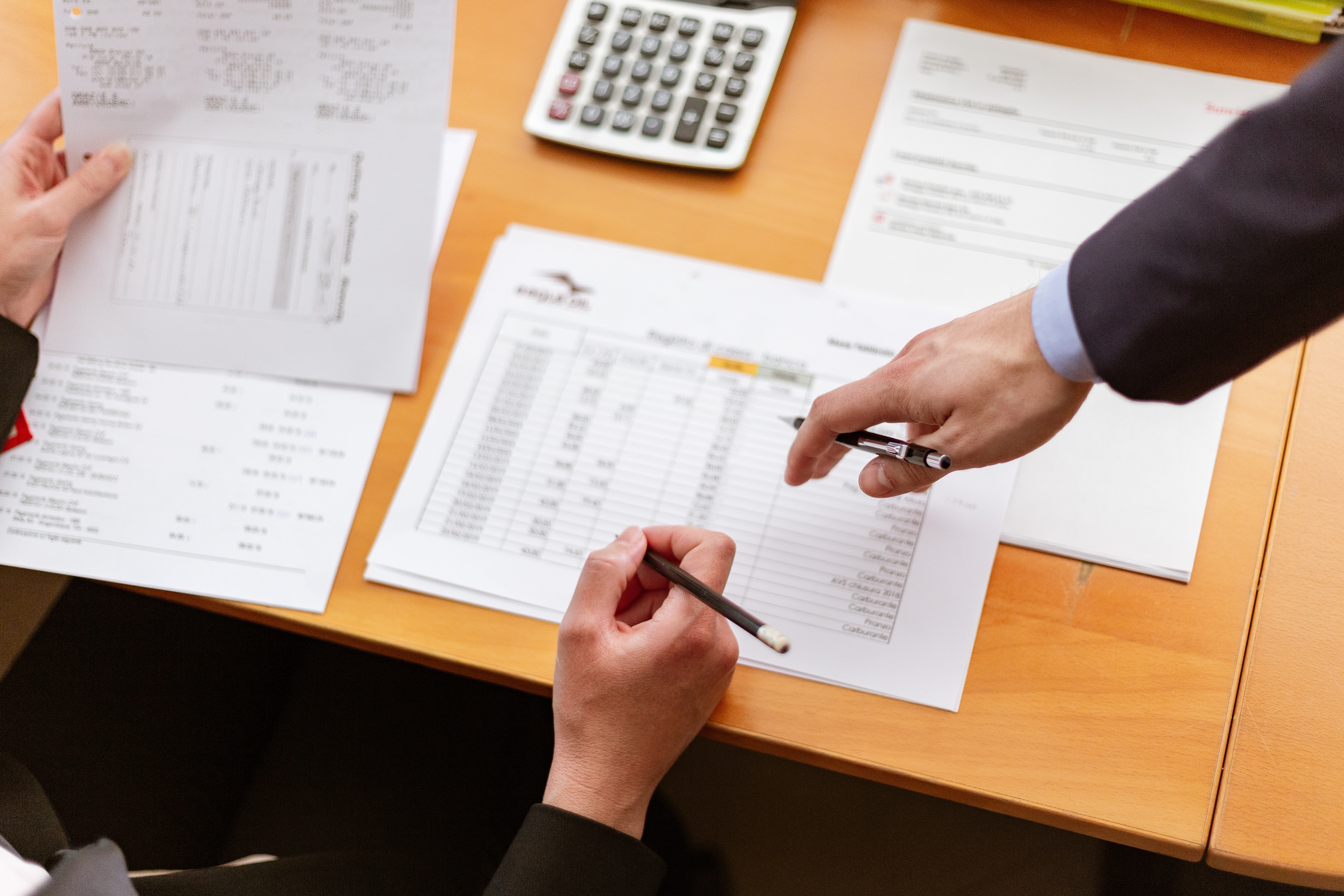 Although restaurant startup costs vary between facilities, making a budget, creating a detailed appliance list, and submitting quotes will give you a good idea of how much your commercial kitchen will cost upfront.
For more information on Chicago Faucets products, shipping, or customer service — give us a ring. And, be sure to check out our Food Service Guide for all the details on outfitting your commercial kitchen, restaurant, or catering space.