Are public water fountains safe? This question continues to pop up as public facilities, like schools, consider replacing aging appliances with new and improved bottle fillers for your drinking fountains.
From lab classrooms to restrooms and cafeterias to hallway drinking fountains, water plays an integral role in the school system. Therefore, it's imperative that schools provide safe and healthy drinking facilities for their students and employees.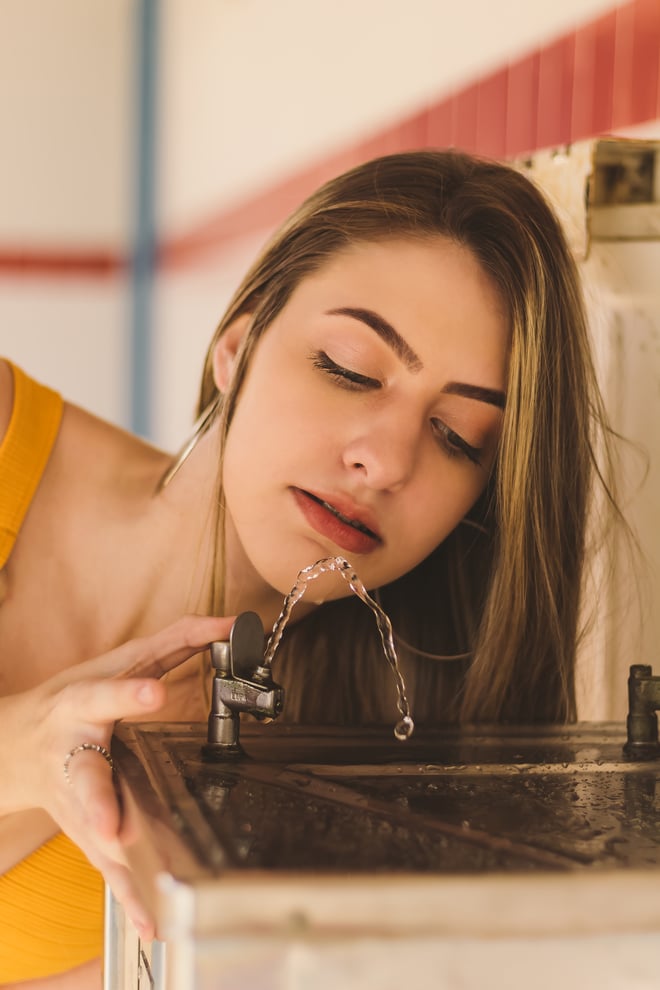 What's in your school's water?
A variety of water fountain-related risks exist in any public water system, even in schools. Potential hazards in your school's drinking fountains may include the following and more:
Exposure to lead
Spread of infection and illness
Contact with germs
The Environmental Protection Agency (EPA) estimates that 20% of human exposure to lead comes from drinking water. Drinking lead ridden water is a significant health concern, especially for kids. School-aged children are the most vulnerable to the consequences of lead contact as their bodies absorb more lead when compared to the typical adult. Take the simple step to replace your school's outdated bubblers and you'll work toward a lead-free school.
In addition, there is potential for children to come into contact with bacteria and germs when using school drinking fountains. With the number of illness outbreaks in schools increasing every year, a financial burden is placed on schools and parents along with an impact on teacher and student performance. To eliminate the spread of illness, schools must invest in quality water fountains and faucets — and properly maintain and sanitize them.
Illnesses that spread from a water fountains:
School water fountains and faucets can harbor bacteria which leads to infection and illness. The most common forms of bacteria found in school water systems are Legionella, E. coli, Giardia, Norovirus, and more. These diseases typically cause flu-like symptoms, upset stomach, aches, and, at times, severe infection.
Top methods to remove contaminants from water fountains:
Today, faucets are required to contain no more than 0.25% lead, which reduces the lead content to just 3% of the value before 1996. Chicago Facets meets these standards. In addition, our lead-free brass products keep your facility safe — with minimal lead exposure — at an affordable price.
By replacing older faucets and bubblers, you'll work to reduce exposure to lead and other water contaminants, such as disease, in your schools. Chicago Faucets water fountains are designed to be effective, hygienic, and durable. In fact, our bubblers feature a plastic mouth guard that contains antimicrobial properties, which inhibit disease-causing organisms and reduce the spread of germs.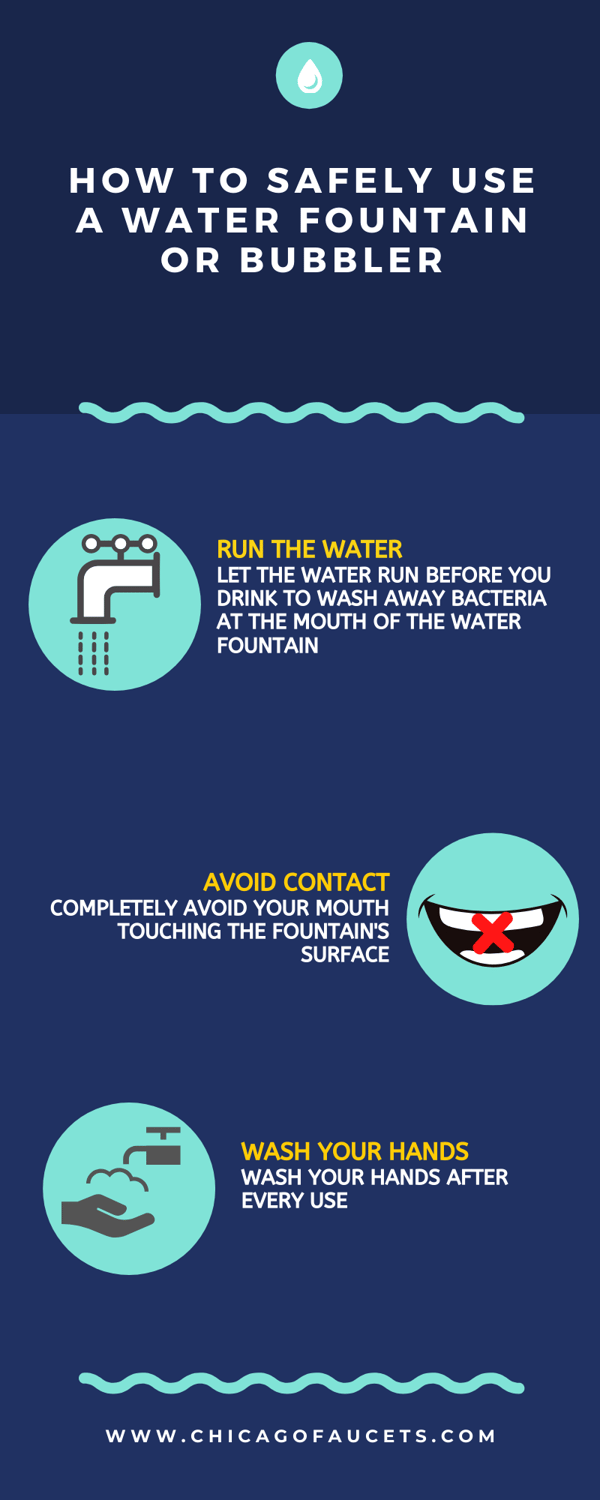 Best fountains & faucets for your school:
With all the choices on the market, choosing a water fountain for your school system can be overwhelming. While sifting through your options, be sure to keep in mind, the right water fountain for you must be sanitary.
At Chicago Faucets, our water fountains feature antimicrobial mouth guards. Plus, Chicago Faucets drinking fountains are certified low lead content and ADA compliant — and they come with a comprehensive warranty package.
School-friendly drinking fountains, bubblers, and bottle fillers:
Chicago Faucets offers a variety of drinking fountains and bubblers to meet every need of your schools building. We also offer bottle fillers that are the safest today's environment and are simple to retrofit for your existing water fountains, click to download our informative one page flyer on this process.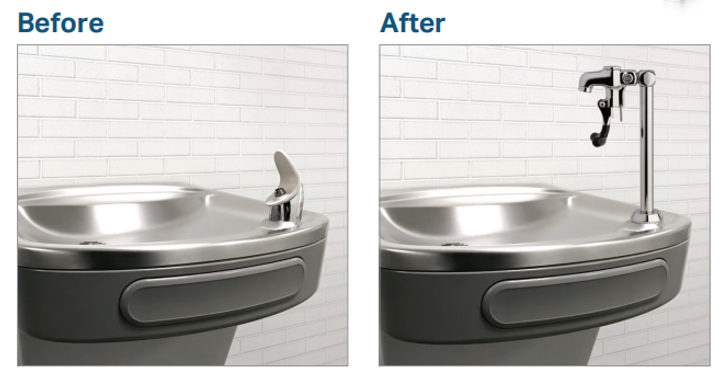 With our safe and accessible water fountains, your student body will flourish. For more educational tools to create safer water solutions in schools, click here to learn about our most durable touchless faucet for education facilities. .
If you're ready to build a healthier school, reach out. It would be our pleasure to assist you through the purchase process. Our customer service team will be by your side as you from the time you reflect on which drinking fountain is right for your school until you place your water fountain order.