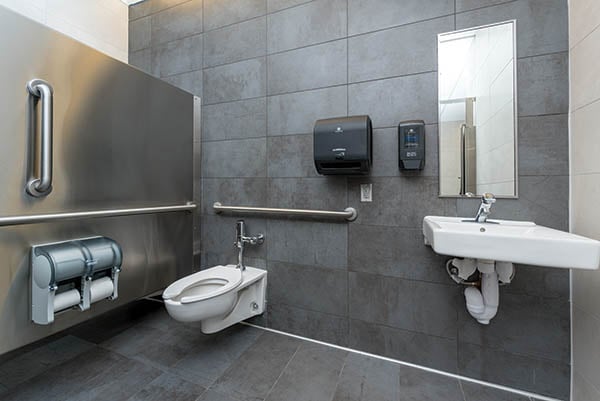 President George H.W. Bush signed the Americans with Disabilities Act (ADA) into law on July 26, 1990. This legislation prohibits discrimination against anyone with a disability. It also requires that facilities make accommodations for them, like installing an ADA-compliant faucet in at least one restroom.
More than 41 million Americans have a disability. If you are designing or renovating a space and need to ensure that lavatories in your facility are ADA compliant, these five tips help you find the right one.
First, let's look at what makes a faucet ADA compliant. Understanding the requirements can help you know exactly what you are looking for when you go shopping for a new faucet.
Key Takeaways:
The sink, vanity, and faucet have a set of requirements to ensure ADA compliance. Height, width, depth, and clearance are all part of the compliance regulations.
A manual faucet must take only five pounds of force to turn on, and touchless faucet sensors must be within reach of a person in a wheelchair.
A person with a disability must be able to operate the faucet using one hand and must accommodate left and right-handed individuals.
If there is a vanity or sink base, there must be at least a six-inch toe clearance from the floor to the bottom of the vanity
A touchless or metering ADA faucet must remain on for no less than 10 seconds to allow enough time for the person to wash their hands, although 20 seconds is ideal.
What Makes a Faucet ADA Compliant?
An ADA-compliant faucet includes regulations that extend to more than just the spout. The sink, vanity, and faucet must meet the set standards set by the ADA to remain compliant. You must factor in:
Height

Width

Depth

Clearance

Accessibility
When incorporating fixtures and fittings for ADA compliance, you must also factor in the size of the room. Not considering the available space within the room to comply with regulations is a common mistake designers make when mapping out a floor plant for a bathroom.
5 Tips for Picking an ADA Compliant Faucet
Aside from failing to accommodate people with disabilities, facility managers and building owners face strict fines for not remaining compliant with ADA regulations. In 2020, there were roughly 10,900 lawsuits filed due to ADA violations.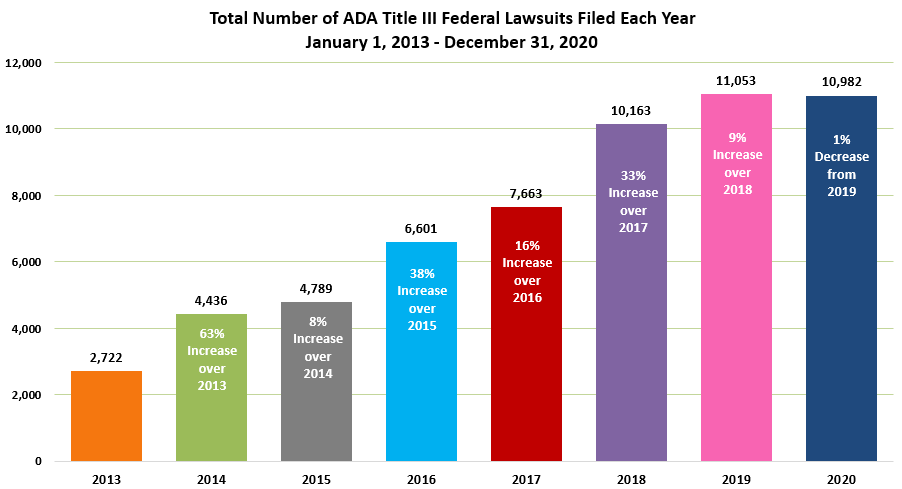 Remaining compliant and avoiding lawsuits is an excellent reason to make sure that your facility installs ADA-compliant faucets. Here are some tips for picking the right ones for your facility.
1. Check the Required Force
When shopping for a new faucet, check the strength required to use the handle. Operating the lever for an ADA-compliant faucet must take no more than five pounds of force to turn on the fixture.
If you are shopping for the faucet online, check the specification in the website's product description section. It should state that it is ADA-compliant. However, look to see what the force specs state. If the website does not include this information, contact the seller or manufacturer of the faucet to verify. This small detail can make the difference between compliance and non-compliance.
2. Perform the One Hand Test
You should also be able to operate the faucet using only one hand. You want to ensure that the user can turn on the sink with either their right or left hand.
If the faucet has separate handles for operating the hot and cold water, the user should easily reach the handle on the opposite side of the hand they use. For instance, if the person is using their right hand to turn on the faucet, check to see that they can easily use the hot water handle on the left side of the spout.
3. Take Proper Measurements
An ADA-compliant sink must be a certain height (34 inches from the floor). There must be six inches at the bottom of the vanity for toe clearance. It must also extend 17 inches from the wall, with a clearance of no less than 27 inches under the sink to meet ADA compliance regulations.
A person must be able to reach the faucet within 15 inches. If the sink sits inside an alcove deeper than 24 inches, you must ensure a width clearance of 36 inches.
There should be enough space within the room for a wheelchair to move around. The door, toilet, and partition walls must not obstruct the faucet. Taking proper measurements will ensure you create a space that accommodates the needs of anyone using the restroom.
4. Consider the Spaces Between
Not only must a person with physical limitations be able to reach the faucet easily, but you also want to make certain that there is enough space between sinks. Everyone should be able to use the sink comfortably without encroaching on someone else's personal space.
People with disabilities may face many uncomfortable situations throughout the day. Feeling crowded in a public restroom should not be something they have to worry about. You can help them avoid these situations by considering the spaces between spouts.
5. Program the Timing
In life, timing is everything, and this includes the time it takes to wash your hands. If your facility has touchless faucets or metering fixtures, you need to set the metering feature at no less than 10 seconds to remain ADA-compliant.
Ideally, you should program the water to remain running for 20 seconds. That is the amount of time the Centers for Disease Control and Prevention (CDC) recommends people wash their hands.
There are faucets available that allow you to program your touchless and metering faucets from a smartphone or mobile device. That will enable you to adjust these settings anywhere, even outside the facility.
What to Look for When Shopping for an ADA Compliant Faucet
At Chicago Faucets, we know that you have a variety of options of faucet manufacturers. We encourage you to shop with a brand that focuses on the health and well-being of others.
We manufacture faucets that are ADA compliant. We also use sustainable manufacturing practices because we care about the environment as much as we do those who will be using our fixtures.
Are you upgrading or renovating and need to purchase ADA compliant faucets? Contact us today to see what models will work best within your space.