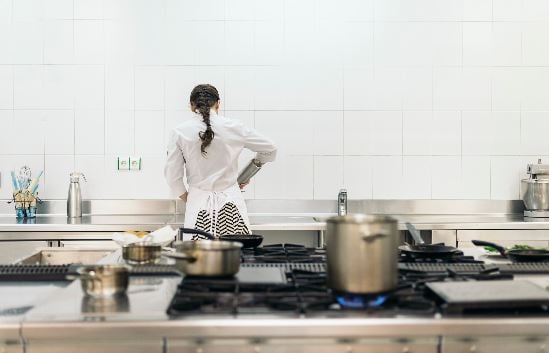 The technology used in the food services industry has come a long way in the last decade.
Whether you are specifying for a new eatery with a swanky commercial kitchen or revamping your pizzeria, the latest equipment can help you design the operations to bring down costs and improve your back-of-house services.
Modern kitchen equipment and accessories enable foodservice companies to improve processes, streamline kitchen operations, and reduce ancillary costs with efficient devices. Advances in the technologies and manufacturing methods of everything from commercial kitchen faucets to heating equipment enable restaurants to prepare food faster and deliver better quality dishes for today's sophisticated palates.
7 Advances in Restaurant Kitchen Equipment and Technology
Over the last few years, there has been a drive towards reducing the footprint of essential equipment and improve the energy efficiency of these devices. Unchecked energy use can quickly increase costs in any commercial kitchen. If you're designing or planning to upgrade a kitchen, you'll need to know about the latest developments in the commercial food services industry's technology.
1. Refrigeration Equipment
A large commercial refrigerator, on average, consumes 38,000 kilowatt-hours of electricity per year. Which amounts to more than $5,000 annually in electricity costs for a single walk-in fridge. That adds up to quite a few deep-dish pizzas. With improvements in outdoor condensing units and defrost schemes by companies like Emerson Climate Technologies, your kitchen can save between 30% and 60% on energy consumption with newer systems. Some utility companies will even offer rebates if you invest in energy-efficient refrigeration equipment.
2. Stock and Inventory Management Software
If you're still receiving fresh produce and inventory while scribbling on a clipboard, you may as well be stuck in 1982. Modern inventory systems come with integrated purchase ordering, advanced inventory-monitoring tools, and automated alerts that help you stay ahead of the lunchtime rush. The latest systems even help you determine the prices of dishes, ensuring your customers don't undercharge patrons for that delicious pastrami sandwich. Solutions like LAVU POS lets you keep track of all the numbers, schedule shifts, and track inventories on an iPad at an affordable price.
3. Commercial Kitchen Faucets
To keep food safe, you need to use a lot of water to wash and rinse raw produce and clean cooking utensils. Reduced flow rates in commercial kitchen faucets with sprayers will help you save on the amount of water used while prepping a dish for a foodies' next Instagram post. With flow rates as low as 0.91 GPM, you can maintain a sanitary environment in your commercial kitchen while saving on utility bills. The latest models of deck or wall mounted pre-rinse faucets come with adjustable sprayers, ensuring you use the appropriate amount of water for the task at hand. Companies like Chicago Faucets use ECAST technology for improved quality with a range of designs like remote valves and adjustable centers, including touchless faucets for better hygiene.
4. Modern Combi-Ovens and Commercial Microwaves
The latest ovens combine traditional conventional heat generation with convection and microwave technologies. Radiant heating in cook and hold ovens use less power, allows you to set the exact cooking times, manages the system remotely for greater efficiency, and reduces your energy bills considerably. Some of the latest Combi-Ovens even come with Hazard Analysis and Critical Control Points (HACCP) technology that analyzes food while it's being cooked, helping keep your customers safe from food poisoning. Modern ovens from C&T Design and Equipment also have improved heat dissipation, ensuring all your dishes cook evenly throughout and reducing the number of unhappy patrons who send back undercooked food. C&T Design and Equipment can provide cooking systems like the Alto-Shaam Multi-Cook ovens or a vent-less Hoodini Combi-Oven.
5. Energy Efficient Commercial Griddles
Older electric griddles were a major drain on revenue by consuming massive amounts of power while in operation. With the inclusion of these devices into the government's ENERGY STAR program, the modern equivalents can produce massive savings in a commercial kitchen. The best available products can reduce the power requirements by 1000 watts in idle energy rates. If you use more than one griddle in your restaurant, this can quickly add up to a significant saving in back-of-house operations.

Table courtesy of Federal Energy Management Program
6. Fire Suppression Systems
If your customer regularly flambés dishes and sets off fire alarms in the process, you may be terrifying the customers instead of impressing patrons. Fire safety isn't something to trivialize, as commercial kitchen fires cause damages of $246 million nationally in the foodservice industry every year, according to the NFPA.

Wet chemical fire protection and suppression systems will reduce the amount of water damage in your commercial kitchen in case a fire breaks out, saving you from having to replace appliances. With individual cylinders that integrate directly with heating and cooking appliances, these systems monitor specific areas and suppress any localized fires quickly and efficiently.
7. Restaurant Integrated Building Management Systems (BMS)
A BMS helps restaurants manage refrigeration settings, lighting, air conditioning, access control, and can even alert the chef when new patrons enter the building. These systems utilize the technologies behind the Internet of Things (IoT) using sensor data to provide insightful analytics about the restaurant. You can track how many people visited your restaurant at what times and determine how long patrons had to wait before seating them. You can also use a bespoke designed BMS from companies like Aimteq to manage energy consumption, automatically preheat devices, and monitor all operations from a centralized dashboard.

Leveraging Modern Restaurant Kitchen Equipment to Improve Back-of-House Operations

Technology continues to help commercial kitchens reduce the operational overheads, improve processing efficiencies, and deliver consistently delicious meals that keeps patrons coming back for seconds. For specifying engineers in the food services industry, the slim margins between your customer's income and expenditures require a modern design that helps reduce costs and improve the way staff operates, while keeping every patron safe when visiting the establishment. When redesigning a kitchen or doing a layout for a completely new venture, making use of these improvements in commercial kitchen technology will allow you to build and maintain a sustainable business model for your customers well into the future.

For all your back-of-house plumbing and commercial kitchen faucet requirements, speak to Chicago Faucets to discuss your restaurant's needs today.